Entri yang Acu copy dari blog Kakcik akan melekat hingga 20/10/2011
entri baru kena scroll bawah ye :)


Tarikh : 23/10/2011 (Ahad)
Waktu : 2.00 petang hingga 7.00 malam
Tempat : Rumah Kakcik (alamat penuh akan diberi kemudian)
Taman Kencana, Cheras
(berhampiran Pandan Indah).

Diharap kawan-kawan, adik-adik dan anak-anak dapat mengesahkan
kehadiran di blog kakcik atau di blog Dr Faiz ini.

Tiada susunan aturcara kerana pertemuan ini hanyalah sebagai jambatan
untuk menghubungkan silaturrahin sesama kita yang kebanyakannya hanya
saling kenal melalui maya sahaja.

Seperkara lagi, jamuan di pertemuan ini akan diadakan secara 'potluck'.
Kalau boleh, minta nyatakan jenis makanan yang akan dibawa untuk memudahkan rakan-rakan lain menentukan jenis makanan mereka pula.

Apa-apa perkembangan, akan diberitahu dari masa ke masa.
Semoga apa yang kita rancangkan ini akan menjadi kenyataan.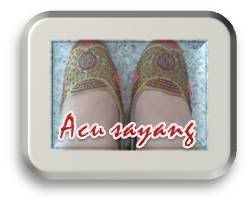 "SomeDay I Will Be Queen' But I Will aLways Be MyselF"